4 Benefits of Co-Working Spaces That Beat Traditional Offices
The world of work has changed over the last decade or so, and with that change came a shift in the "traditional" office space. Suddenly, offices around the globe went dark, and entire workforces began working from home. Because many people started working remotely, companies were forced to rethink their office spaces to attract and retain employees, save money, and protect their bottom lines.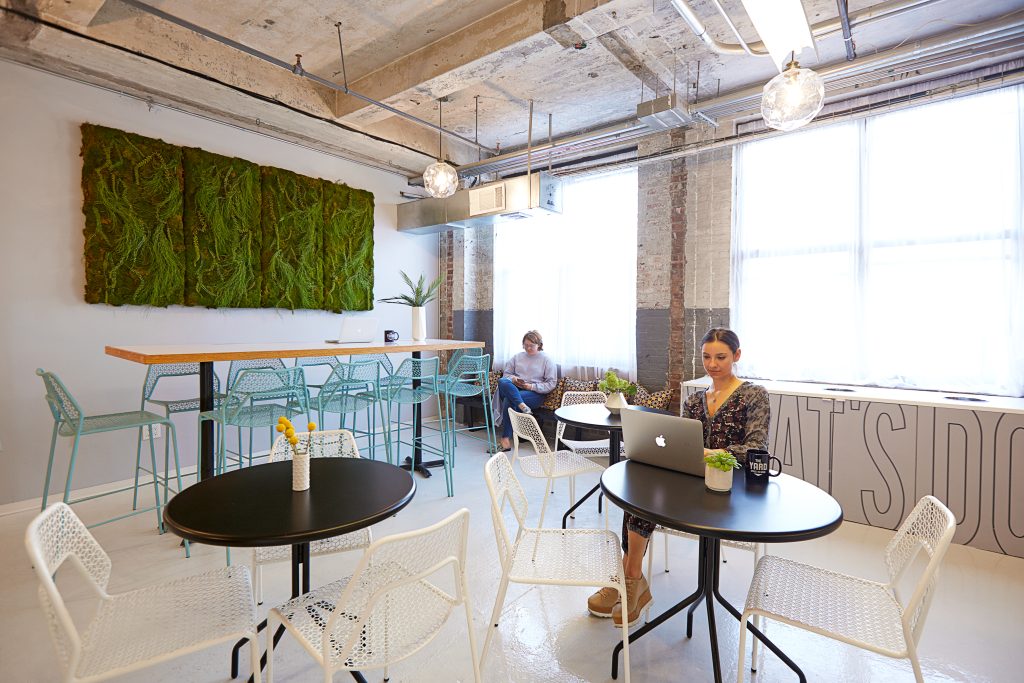 Many companies defaulted to open floor plans, collaborative spaces, and more hospitality-oriented designs. In addition to making office changes, companies needed to continue leasing their spaces. They had to provide guarantees, adjust designs, commence with building, invest in all the necessary furnishings, and manage upkeep and maintenance — all of which came at a high capital expense.
Today, 58% of workers now have the opportunity to work from home at least once a week, and 35% have the option to work from home full-time. Even though there's been a return to the office this past year, companies are still left with unused space thanks to this era of remote work arrangements.
What Corporations Can Learn From Co-Working Trends
Flexible spaces — and, in turn, flexible co-working cultures — could be the solution to the challenges companies face when navigating this new era of remote work. A beautiful and dynamic turnkey space with big conference rooms, private office options, and several locations provides the flexibility almost any company might need in a workplace.
Co-working spaces allow you to reduce your real estate footprint and avoid capital expenses. However, the biggest perk is that these spaces allow you to shrink and expand your office as
needed. With the uncertainty of the economy and the future of work, having a space that you can tailor to your needs at any given time is a huge benefit. It can help companies stay agile and save money in the long run.
The Yard offers multiple different membership options catering to various occupancy levels. Your company can rent out private rooms, individual desks, or entire co-working spaces, among
other things. There are also several usage options that can vary from person to person, including day passes, multiday passes, and year-long memberships.
No matter how limited or extensive your flexible working policy is, a co-working space can serve as the hub of your operations. For one, it provides workers with a dedicated space to meet, which is especially important with virtual meetings being so problematic. According to a Gallup survey, 32% of hybrid employees say that virtual meetings are less effective than in-person meetings. People often miss co-workers' nonverbal cues when interacting online. It can be difficult to gauge whether other attendees are confused or distracted.
Co-working spaces also provide the freedom today's workers seek in employment. By their very nature, co-working cultures allow employees to come and go as they please. These spaces emphasize the value of results rather than hours in the office. Such an approach has a way of improving work efficiency. Why is flexibility important in the workplace? Because people are much more productive when they feel you trust them to get the work done when it needs to get done.
Plus, co-working spaces manage all the day-to-day operational activities of the office. Everything is included in a one-bill solution. There's little wonder about how much the office space will cost from month to month, adding a bit more predictability to that portion of the budget.
The Benefits of Co-Working Spaces
Co-working trends being what they are, many companies believe alternative flexible office spaces are best suited for startups and small businesses. Nothing could be further from the truth. Many large corporations looking to reduce their real estate footprints (and save money in the process) can reap the benefits of co-working spaces. These benefits include:
1. Flexibility
Flexibility is often the main benefit of co-working spaces. The arrangement allows you to take advantage of different layouts based on your needs. Should adjustments need to be made to the workforce, you can scale or shrink the space and pay for only what's necessary for your business.
2. Community
Proximity has long been a contributing factor to a sense of community. Virtual work all but eliminates the closeness and accessibility of colleagues. Having a co-working space provides employees with opportunities to interact with co-workers when they need to, helping them connect and establish relationships that enable teamwork and collaboration.
3. Networking
Though traditional office spaces certainly enable collaboration, co-working spaces take that benefit to the next level. In a shared space, your employees are in close contact with employees from other companies, which can encourage networking. Few workplace settings allow a business to learn from other businesses — you may even find yourself with a partner or two.
4. Design
With interest in co-working spaces on the rise, companies offering this office alternative are investing in the spaces themselves. They often provide an upscale look and feel at a price point that will work for almost any budget, with lounges, cafes, and scheduled meeting spaces. They also serve up many "concierge" services to attract the tenants they want in their spaces. A co-working space is an innovative solution if you're rethinking your real estate footprint. These traditional office alternatives provide the flexibility, sense of community, and networking opportunities that employees often seek in an employer. And, as a bonus, they save your organization money. If you'd like to learn more about co-working spaces, contact us today. A member of our team would be more than happy to discuss your challenges and find a tailor-made solution for your operations.